Wining & Dining
You can't find a better dining experience in all of Germany than the one right here in Baden. The wine is bathed in sunshine and France's culinary expertise has crossed the border and infused the regional culinary scene with a delightful flair.
Here, savoring food is a way of life: from food connoisseurs who dine in Michelin restaurants to pub crawlers, fans of beer gardens, and those who enjoy traditional home-cooking, all expect nothing but the best. A desire for pleasure is Karlsruhe's heritage; was it not a full stomach after a hearty lunch which led city founder Karl to dream of a new city? Over the course of the years, Baden's role as a culinary rising star resulted in a star of a different sort – the Michelin Star. Baden has received many Michelin stars, and it is here that the annual Michelin Guide for Germany is produced.
The cuisine of Baden, international specialties, beer gardens, wine bars, cocktail bars and cafes – they all await you in Karlsruhe to offer culinary delights and amazing hospitality.
Read more... »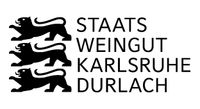 Above the margrave city Durlachraises the Turmberg which is 225 m high. At the foot of the tower is the State Vineyard Karlsruhe - Durlach.
Read more... »